Our Activities
Body & Soul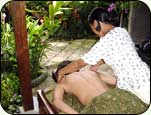 Traditional massage
Usually they are a combination of relaxing and healing techniques. In a spa or at your hotel they will be quite soft. The better ones are practiced by old people in the villages. We can look for them on your request.
Reflexology and shiatsu
This kind of massage is not really relaxing. It intends to work on the parts of your body where the energy does not circulate well. Can be a bit painful but gives you a great feeling afterwards. You often feel like flying!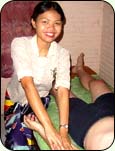 Body treatments
Bali is definitely the place to give more care to your body than usual. Much kind of treatments from feet to hair with different kind of natural products are available in spas or traditional Balinese beauty salons. You must try them because you deserve it! Of course! Even if you are a rugby men or a soccer player! This is not only for spoiled woman but for anyone!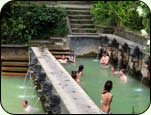 Hot springs
We provide easy cycling day or half day trips around villages and more or less flat countryside. They can be done by anyone. We can upgrade the difficulty on request.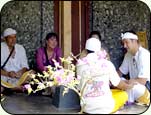 Meditation
Indonesia offers plenty of meditation places such as caves, temples, monastery, deep forest. You may want to meditate in places used by formal kings and mystical people. We know where they are as we consider spirituality as one of the main component of the country's identity.