Hotel Selection
The Hotels selected by Discover Bali Indonesia

Discover Bali Indonesia visited and reviewed hundreds of charming guest-houses, intimate boutique hotels, eco-lodges, luxurious resorts in Bali, Lombok, Java, Sulawesi and Flores and we present here our best picks among four grades:
Charming Budget, Charming Middle Range, Charming Luxury and Charming Super Luxury.

Note: sample prices are quoted in US dollars.
The different categories of our Authentic Hotels :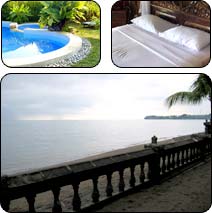 Charming Budget Hotels
Here we selected charming guest houses, rural lodging, budget eco-lodges and hotels with light fares, offering basic but sufficient comfort. You will always enjoy private bathroom with hot water and private terrace or balcony. Air conditioned is provided when useful and quite often you will be able to indulge in a small swimming-pool.
Price: 30$ to 55$ per night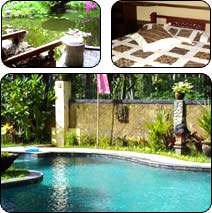 Charming Middle Range Hotels
Within this range of accommodation you will be assured already to enjoy a significant amount of sophistication. However these places usually do not yet satisfy expectations of "luxury" by Western standards, even if they achieve to delight majority of travelers. It might not yet be luxury yet by western standards, even though by some criteria it will already be (very nice swimming-pool, AC except in the mountains, in room services…). Architecture will usually be of traditional inspiration.
Price: 55$ to 90$ per night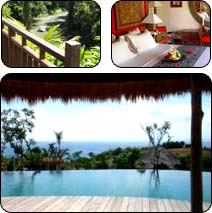 Charming Super Luxury Hotels
In here you will be assured of getting the very best of Indonesian high luxury hotel s and villas. The most opulent king of Bali would have been excited to exchange them with his own private palace. Amazing architecture and interior design, fountains, delicate artworks, very refined guest handling, amazingly delicious food, will make your stay become a piece of dream.
Price: 180$ and more