Tour Destinations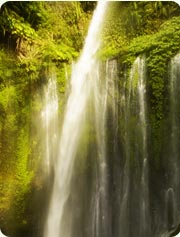 …among the great archipelago
Indonesia's size is the one of a continent. Years of traveling would still not be enough to explore such an enormous archipelago. Each island has its own culture, and often its own language. We would be fools to consider ourselves the experts of every region in Indonesia.
We are "only" the specialists of Java, Bali and Lombok, three islands linked by history, but very different from each other in terms of nature and culture. Java displays overwhelming Hinduism and Buddhism archeological heritage and tremendous hiking opportunities. Lombok is still little developed and is logically famous for its wonderful beaches and unspoiled scenery. Bali is a kind of mixture between the highly civilized Java and the more primitive Lombok, and developed until nowadays as a unique and fascinating culture, linking Asia to the Pacific.
Two weeks are not too much to visit Bali — it needs even a bit more to travel on Java without being in a hurry. Lombok can be visited in five days though, and the Gilis and Nusa Lembongan are places for shorter stays. Four weeks would allow you to see them all in a row.
We give you more tips further down about Java, Bali and Lombok particularities. The idea is to help you to know which of those islands the best choice is for you, according to what you are looking for.

Java
Java Island is the cultural, political and also spiritual center of Indonesia.
The boarders of the nowadays country of Indonesia have been based on the Javanese Hindu and Buddhist Empire of Majapahit, destroyed by the arrival of Islam during the fifteenth century...

Click for details »

Bali
Bali's reputation as a tourism heaven is worldwide. Its unique colorful culture added to its magnificent natural beauty has attracted people from all around the world for more than fifty years. The miracle of Bali is that tourism had only little impact on traditional life and you can still see Bali...

Click for details »

Lombok
Lombok is often compared to Bali as it was before the invasion of the tourists. Well this might be somehow true considering Lombok has got a lesser developed tourism industry and the lower life standards of its inhabitants. A smaller amount of people are leaving on Lombok than in Bali...

Click for details »

Gilis
The word "gili" means "island" in Lombok's local language. There are many "gili" in Lombok but the "Gilis" now commonly refer to three tiny islands about an hour away from Lombok's north-west coast called Gili Air, Gili Trawangan and Gili Meno, which have become "touristy tropical paradise"...

Click for details »

Nusa Lembongan
Nusa Lembongan is a small sized island one hour away by boat from mainland Bali. People living there follow the Hindu faith and are similar to the Balinese in any means. The island has become a kind of big beach resort with little left for traveling experience...

Click for details »