Our Activities
Cultural Activities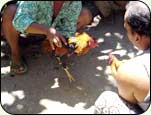 Cocks Fights
This is an exclusive men activity as you can imagine. They got a spiritual background (the blood of the cocks are purifying the village) but are of course an old way of gambling. They are spectacular but can be cruel.
It should be seen anyway if you want to see all sides of Balinese culture, the brilliant parts of it and also the darker sides.
See also : [ Cock Fights in photos ]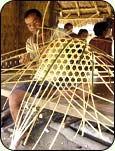 Handycraft workshops
There are plenty of them. It can be very interesting to witness how the work is done, often with very simple working instruments. Some techniques are ancestral and the results brilliant. Bali is famous for it wood carvings and sculptures. Lombok for its weaving and pottery. In Java you can find any kind of handy craft as they supply the showrooms in Bali.
We do NOT bring you to handy craft workshops intending to get commissions.
See also : [ Handycraft workshops in photos ]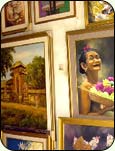 Museums / art galleries
Some museums should really be seen if you are willing to understand the culture and history.
We selected the best of them.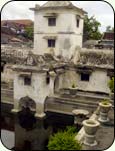 Royal Palaces
Called "Puri" in Bali and "Kraton" in Java, this residences of formal kings are not always impressive in terms of luxury but usually offer a very special ambiance, bringing you back to older times.
Sometimes the "king" still lives there (the Sultan of Jogjakarta for instance) or the descendants of the latest king (it is often the case in Bali). A small museum might be attached to the palace but not always. The idea is to wonder around and "feel" the past.
Spiritual and worship monument
Temples, monasteries, and other worship places can be visited for historical or artistic interest. Some of you might be willing to enter more deeply into the spiritual aspect by practicing meditation or praying.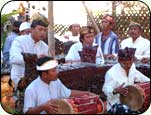 Traditional dance and music "shows"
Our goal is to give you the opportunity to attend traditional music or dancing events which are NOT "shows" (usually intended for the tourists) but authentic cultural events. This might be quite easy in Bali but more difficult in Java and Lombok. If there is no other opportunity we selected the "best" shows, regarding quality and authenticity.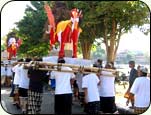 Traditional festivities
Discover Bali Indonesia introduces you to authentic religious or traditional events. Usually you will be the only foreigners in the assembly: exceptional experiences for the travelers with some anthropological set of mind.