Our Activities
Leisures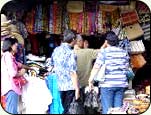 Shopping
Indonesia, as a worldwide handy craft producer, is great for shopping. In Bali you may also be interested in Interior Decoration and clothing boutiques (some brand shops are offering great discounts).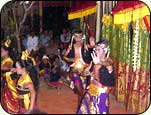 Nightlife
Nightlife in its extended meaning (social events at night time) is a traditional habit (many village festivities are hold at night time and shadow puppets shows can last until the morning!).
There are many bars now with local bands playing international music, the more interesting among them specializing in world music, mixing traditional music with modern components. You can find discos in any big city or touristy center. Anyway this website is definitely not specialized in this domain.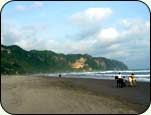 Beach and sea
You may want to balance your holidays between relaxing time at the beach and discovery activities. Bali and Lombok have a lot of gorgeous beach hotels. We might also bring you to secluded beaches where you might be just alone (this can be even a better option then the private beach of your hotel!).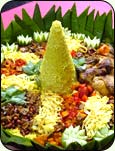 Dining
Indonesia has an interesting gastronomy, with a lot of variety as long you escape the tourist restaurants always offering the same so-called Indonesian food, quite transformed for accommodate the western taste.
To get authentic food you better eat in the night markets or in the "warungs", small traditional eateries. If you are looking for fancy restaurants you can get almost anything you dream of in Bali, less in Java and Lombok. There are plenty of very romantic restaurants in gorgeous tropical settings. Our guides will give you information about them.