Discover Bali Indonesia's Articles
Mepantigan (Balinese Mixed Martial Arts)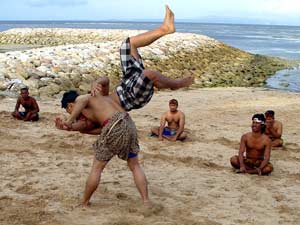 MEPANTIGAN is traditional Balinese martial arts that involve the techniques of throwing and locking. The performance is accompanied with traditional Balinese orchestra "gamelan" such as gagambuhan. The fighters wear a uniform consisting of bebuletan (sarong), kancut, guladginting, and udeng (head-dress).
This game can be performed in the beach or wherever space available. (created by Putu Witsen)
In practicing of regular and private classes, we also teach the technique of Ground Fighting and Standing Fighting like TAEKWONDO, PENCAK SILAT, JUDO, KICK BOXING, KARATE etc. The advantages of this sport are Physical Fitness, Stress Release, Weight Control, Sportsmanship and Friendship; it is a fun activity, also develop good personality.
There are threes in MEPANTIGAN, they are Beginners, Intermediate, and Advance. The participants of MEPANTIGAN wear the uniform, belts and they get certificate.
Related information: