Discover Bali Indonesia's Articles
Passport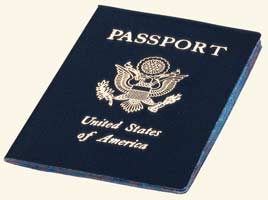 A passport is a formal identification document issued by a national government that identifies the holder as a national of a particular country. It requests permission, in the name of issuing nation's government, for the bearer to enter other countries. Passports provide the holder the right of legal protection abroad.
They typically contain the holder's photograph, signature, nationality, and date of birth. Numerous countries are developing biometric properties for their passports in order to further confirm the passport presenter as the legitimate holder. For instance, the United States, as of October 2006, will implant electronic identification chips in every passport to concretely identify each bearer.

You cannot get into one country or another without a passport and at every countries border is where they will be checked. There's a reciprocal agreement between the U.S. Canada and Mexico that allow their citizens to enter these countries without passports. However, this will soon change and it will not be that easy to enter these countries anymore.

Passports may be stamped or sealed with visas issued by the host country that authorize entry for an extended period of time. The front cover of all passports bear the full official name of the issuing country, and often that nation's coat of arms or another complex identifying symbol. Passports follow a standardized format. They begin with a cover identifying the issuing country followed by a title page also naming the country. The next pages provide information about the holder and the issuing authority.
After this page a number of blank pages follow, designated for foreign countries to affix visas and/or stamp the passport on entrance or exit. The issuing authority numbers its passports. For instance, the standard U.S. passport has 24 pages.

If you are applying for a U. S. passport for the first time you will need to fill out a complete application form and prove citizenship with a birth certificate. You get your picture taken twice with a light background taken within the last six months and a fee is to be paid. You can apply for a passport at the local Post Office and some drug stores or pharmacies offer this service also.
Formerly, the U.S placed travel restrictions on passport bearers, prohibiting them from entering certain countries. As of February 2006, U.S. passports are valid for travel to all countries in the world except Cuba.